Restoring Hand Function: AIBE's Researcher Secures €1.3 Million for Groundbreaking Intelligent Neuroorthesis Projects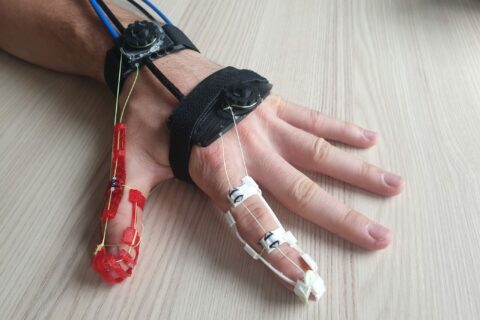 Prof. Dr. Alessandro Del Vecchio, leading the Neuromuscular Physiology and Neural Interfacing Laboratory (N-squared Lab) at AIBE, has obtained funding of over €1.3 million from the Free State of Bavaria for two ambitious projects aimed at restoring hand function in individuals with limited mobility. These projects, set to commence on October 1, 2023, will focus on wireless measurement of muscle impulses and the utilization of artificial intelligence (AI) for implementing movement intention. The research endeavors to provide support to the approximately 50 million people worldwide who suffer from neuromotor impairments of the hand resulting from spinal cord injuries or strokes.
The first project, NeurOne, involves collaboration between Prof. Dr. Del Vecchio, Dr. Matthias Ponfick from the paraplegic center in the Rummelsberg hospital, and Prof. Dr. Thomas M. Kinfe from the University Hospital Erlangen. Together, they aim to develop a wearable neurobandage in partnership with Noxon GmbH, a Munich-based company. This innovative neurobandage will employ a cutting-edge printing technique to apply wafer-thin electrodes and conductor tracks to traditional textiles like T-shirts. By measuring the electrical activity of the skin, even the smallest muscle movements can be captured. Complementing the sensor technology, a brain-computer interface will decode the recorded neuronal signals with the assistance of AI, ultimately deriving the patient's intention to move. The NeurOne project aspires to create an interface between individuals and mechanical systems that will aid them in their everyday movements, thus facilitating a more independent lifestyle.
The second project, GraspAgain, aims to showcase the potential of mechanical support systems. In collaboration with the Chair of Factory Automation and Production Systems (FAPS) at FAU, the N-squared Lab intends to develop a neuroorthesis that can effectively restore hand function to the point where individuals can independently perform over 90 percent of their everyday tasks. This neuroorthesis will utilize cables attached to a soft, lightweight finger sleeve, enabling precise control of finger and thumb movements. To ensure practicality and mobility, the control electronics, actuators, and power supply will be integrated as a compact unit within a walker, wheelchair, or backpack. The neuroorthesis will incorporate a brain-machine interface capable of determining the movement intention of users in four degrees of freedom. The ultimate aim is to create an efficient and comfortable assistive device that enhances independence, significantly improves quality of life, and eases the burden on nursing care insurance funds.
For more information, visit this page: https://www.tf.fau.de/2023/06/buehne/wiederherstellung-der-handfunktion-mit-intelligenter-neuroorthese/
Contact:
Prof. Dr. Alessandro Del Vecchio
Neuromuscular Physiology and Neural Interfacing Laboratory
Email: alessandro.del.vecchio@fau.de